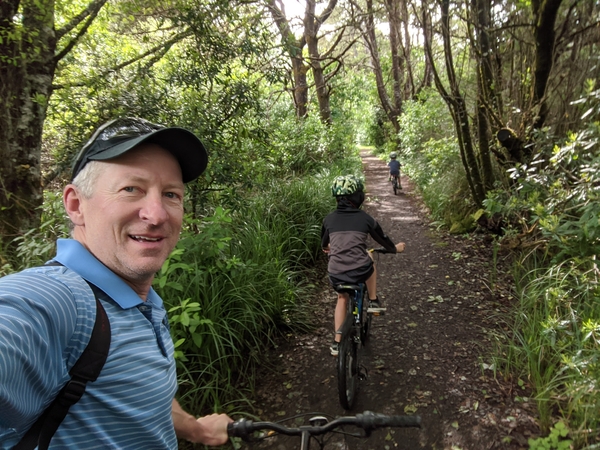 Andy Patton
Senior Project Manager
My family moved to Oregon in 1981 from back east so my father could head up Hewlett Packard in McMinnville. Iíve grown to love the state and consider myself a true Oregonian. In college, I pursued a degree in Architecture, and finished up at the Oregon School of Design in Portland (now part of the University of Oregon Ė go Ducks!), graduating with my B.S. in Architecture. I worked in that field from 1987 to 2001, and still enjoy design and using my creative skills whenever I can. I believe it is a real strength and advantage that I can offer my clients. I definitely understand my projects from more than just the construction realm, which shows if a challenge needs to be solved on a job. Itís also allowed me to understand the entire design and construction process more thoroughly and help improve the partnership with design professionals when weíre working together.
My passion for golf actually led to a career in construction. When I was in my 20s, I ran for and was elected to the board while a member at a private club after realizing that some much-needed changes would only happen if members that cared stepped up to help. I initially chaired the long-term planning and development committee. I eventually became president of the board and we did achieve some good changes at the club. After seeing my results at the club, one of my committee members swayed me to consider a career in construction management and to come work for him in his construction company. I was there until 2004, and left to join another company where I was a partner and could have more influence over management and growth.
While there I managed numerous customers including several telecommunications companies, high tech, USDA food grade facilities, health care, retail customers and a variety of tenant improvement projects. My career has now led me to Essex, which I believe is a great fit for my skills and goals in the construction field. I specialize in small projects and am excited to head up this division for them. It is a tricky area at times and my clients have time and again expressed their appreciation at my timeliness and get-it-done attitude.
In my free time I enjoy getting outdoors and enjoying all that Oregon and the west coast has to offer, including taking my two boys Jaxx & Nash golfing, swimming, skiing, fishing and on other adventures. They are great kids and I spend as much time as I can with them. My wonderful wife Mindi and I enjoy buying houses, fixing them up and selling them. I also design and build furniture, cabinets and various other artistic endeavors. Once an architect, always an architect. Life with my family is always busy and entertaining.