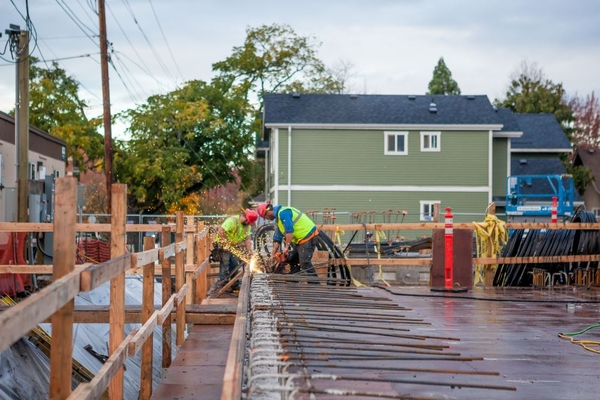 Our Mission
We are a dynamic construction company created by builders who love their craft.
We embrace and respect our employees as our teammates.
Our clients always receive our honest respect and absolute best effort.
We treat our construction partners with fairness and accountability.
We strive to make a fair profit while building safely and right the first time.
We are stewards of our community, and mindful of the built and natural environment.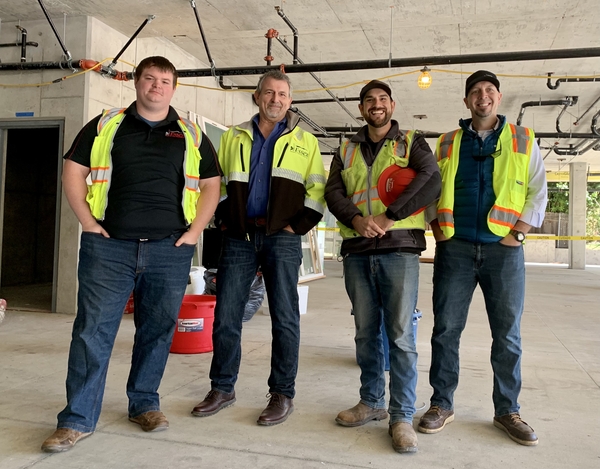 Our History
Essex General Construction is a commercial general contractor with offices in Eugene and Portland Oregon.
We were founded by Jon Texter in Eugene Oregon in 1987. Throughout the years we've built a variety of commercial buildings throughout Western Oregon. Many of our projects have been negotiated. We've also participated in many publicly bid projects.
In 2014 we opened a Portland office to effectively manage our projects throughout Western Oregon and expand into Southwest Washington.
The photo to the left shows our team at a current project in Tigard, Oregon.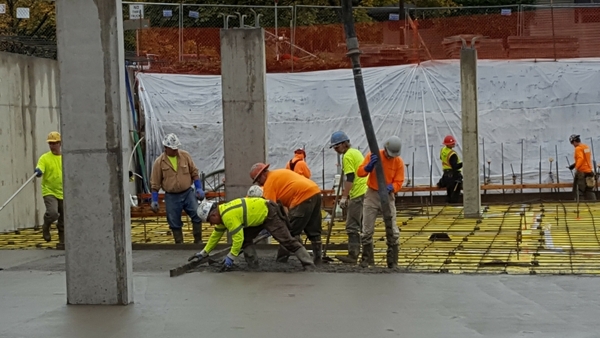 Safety
People are our most valuable asset. This includes our employees, and those that we work with and for. Our safety culture focuses on protecting these most valuable assets.
Safety at Essex is everyone's job! Here's how we insure everyone stays safe. We implement on-going and specialty training, proactive planning, and regular inspections. We provide and reward continual peer and management review and support. We maintain effective incentive programs recognizing achievement, and we partner with our OSHA and insurance safety consultants. Everyone is committed to our safety goal:
'In everything that we do, we always consider safety first. We want everyone to go home at the end of each shift as whole and healthy as they started their day, with no injuries or accidents.'
Sustainability
Essex brings a strong commitment to environmental sustainability and social equity that goes beyond building LEED certified projects. The triple bottom line of "people, planet and profit" is an ethic that drives our company, and represents who we are as people. We bring this perspective to all our projects, providing the information needed to balance cost and benefit for measures that increase resource efficiency.
Community Support
We are committed to our community. We feel fortunate to call Oregon our home. This is where we live, work and play. Oregonians are our neighbors, coworkers, clients and friends. We offer good wage and benefit packages that enhance the lives of our employees, and enhance their ability to make a positive contribution to our community. Additionally, Essex donates a share of our profits to support a number of local non-profits. We also encourage our talented staff to contribute their skills and expertise to help non-profits achieve their goals. 
In 2017 the Essex team will provide at least 30 days of service to Oregon based non-profits as a way to celebrate our 30th anniversary and give back to our community.
These are some of the organizations we support:
Essex General Construction is committed to our clients, our community, the environment and building safely.