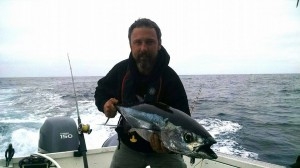 Justin Schoenberg LEED GA
Project Manager
I joined Essex in February 2009
My father "wore many hats" in the industry so I grew up loving construction. I studied and enjoyed metal fabrication throughout high school, and afterwards joined the Navy Seabees for five years as a Steelworker. When I left the Seabees I continued my education at Oregon State University, studying Construction Engineering Management. After graduating I became a Project Engineer for a local construction company focused on bridge building. I realized that wasn't quite the direction I wanted to go in, and after a short time working on my own doing small construction projects I joined the Essex team. I am a Project Manager at Essex.
When I'm not working I am an avid saltwater fisherman and enjoy building and flying R/C nitro and electric powered aircraft, primarily helicopters, quadcopters and drones.
Essex is a fun place to work and I truly enjoy the camaraderie I share with my co-workers.